9 Best WordPress Themes For Commercial And Residential Painters [2023]

For exterior painting or interior painting commercial painting services and residential painting companies alike, creating a beautiful, functional, positively representative and attractive WordPress website can be as easy as watching paint dry (so to speak).
WordPress offers a standard, versatile medium for creating and editing your painting company's website. Though there are some decent free WordPress themes, we have waded through the most traditional painting company WordPress themes to bring you the 10 best WordPress themes for commercial and residential painters.
1. Painting Co.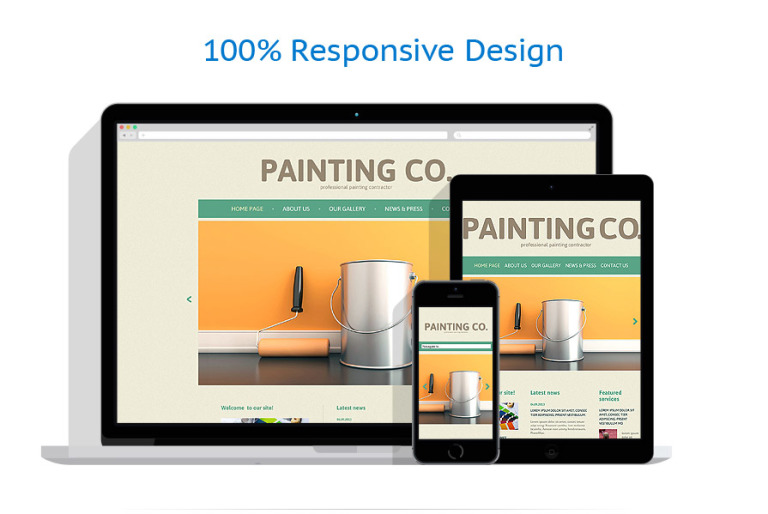 The first thing that becomes strikingly apparent, upon landing on the Painting Co. theme is the beautiful, high-resolution images. This theme is specially designed for painting companies and does not require much work for users to get their WordPress website up and running. From the ArtVertex team comes Painting Co., which is one of the best WordPress themes for painting companies and commercial painters.
Design Features And Usability
One of the greatest features of Painting Co. is its ability to serve as a professional portfolio. The theme hinges on its graphic content and features soothingly smooth realistic animations. As users scroll down the home page, landing page content just slides in effortlessly from either side of the screen.
Painting Co. is offered around $45 from the website, TemplateMonster.com, which offers several add-on services for their WordPress themes. Users of Painting Co. have the option to enlist the services of TemplateMonster to integrate their painter theme directly into WordPress. For those who do not already have a WordPress website, this is particularly useful as the service features the installation of the WordPress platform, as well as up to six pages as they appear in the default demo layout. The team at TemplateMonster will have your painter's WordPress theme up and be running in no time.
2. Vivid – Painting Company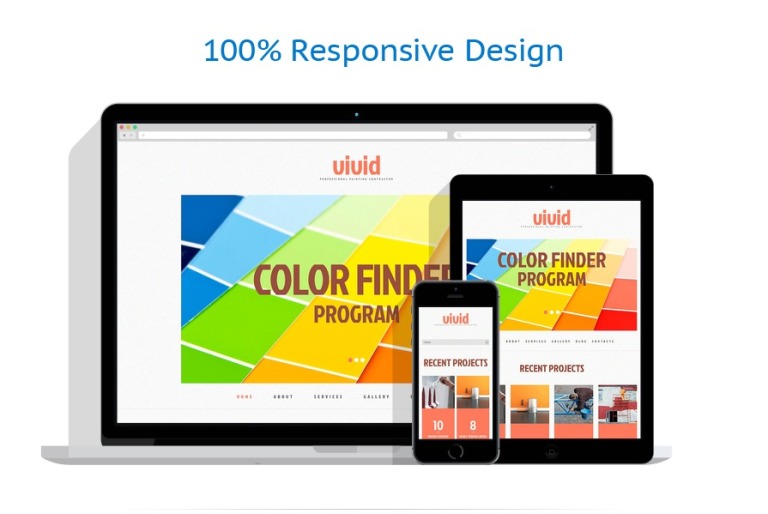 Vivid – Painting Company is a premium WordPress theme for painting companies, which serves to draw in an audience from the get-go. Designed specifically for professional painting contractors, Vivid offers a vibrant, engaging theme demo, which will address the needs of commercial and residential painting businesses, both large and small. The single site license is offered around $75, and the team at TemplateMonster has made several add-on services available at an additional cost.
Design Features And Usability
The Painting Company theme by Vivid is a fantastic choice for users who need a high level of functional compatibility. Though this theme does not include a broad range of useful plugins, there is an add-on package that is offered for an additional fee of around $80. With this pack, users get an Onpage SEO plugin, Google Analytics plugin, an Advanced Page Editor tool, Image Optimizer, and more. With this addition, Vivid becomes not only a beautiful, functional painters theme for WordPress, but it also becomes highly customizable.
Vivid includes over eighty shortcodes to create the most conducive user interface for editing and customizing landing page elements. The built-in theme customizer allows users to change font types, color schemes, and more while the Fantastic Slider plugin allows for custom-made image portfolios and slideshows. Vivid looks great, and it is highly functional once users have added on the must-have plugins package. Even as the base theme, Vivid offers commercial and residential painters an excellent launch platform for their WordPress website.
3. ReConstruction
Found on Envato market, ReConstruction offers a high level of functionality without expensive add-ons. For a painting company looking to be frugal, ReConstruction has all of the essential functionality that will make your online viewership grow, along with your revenue. This theme is perfect for a professional painter's portfolio, as well as for e-commerce-focused businesses.
Design Features And Usability
ReConstruction provides a functional, attractive platform to showcase a company's past projects, as well as to provide in-depth information on the service offered. This theme is perfect for painting companies because it is focused on the practical commerce of the painting business. ReConstruction has been designed to include a customizable quote calculator, which allows visitors and prospective clients to see a preliminary estimation of their project's cost.
Users can retain a significant amount of personalization customizability with ReConstruction. It integrates a fast page builder, enabling users to customize their website on the front end of WordPress. This theme includes unlimited project portfolio layouts, three titles, and grid blog layouts, page transitions, as well as distinctive typography—all of which is accessible to the website developer directly from their WordPress website after ReConstruction is installed. ReConstruction is a versatile WordPress theme and one of the best for residential and commercial painting companies, due to it being all-inclusive. Only install and use the theme out of the box.
4. Eco Painting
Unlike ReConstruction, Eco Painting is a great WordPress theme that is specifically for painting services. Even the name speaks to a direct business demographic as it is catered toward homeowners and individuals. With a suite of essentials and lifetime support, all for around $80, Eco Painting might be the perfect place to start for up-and-coming small painting companies.
Design Features And Usability
Eco Painting includes an SEO integration plugin, which will automatically optimize your WordPress website content for search engine rankings. This theme is designed for professional usage and is compatible with all Internet browsers and viewing devices. Eco Painting's image gallery options provide a fully-capable platform to upload pictures of previous work and video content to demonstrate your company in action.
When it comes to color customization, Eco Painting comes with ten individual colors from which to choose. This theme's color pallet options are more restrictive than many others, but this is a benefit to the aesthetic of one's website. It includes an outstanding support team and frequent updates, which keep your website ahead of the curve and operational. For painting contractors and painting companies of any kind, Eco Painting is a fresh, smooth and easy-to-use WordPress theme.
5. Paint
From BuddhaThemes, comes a vibrant, colorful theme for the best painting companies. Paint is a sure bet when looking for a striking, modern WordPress theme for painting companies. Paint offers a supremely functional, easy-to-customize platform for website developers of all WordPress experience backgrounds.
Design Features And Usability
The first thought that comes to mind when landing on the Paint theme is of the beautiful color schemes. Paint is designed with a genuinely artful color pallet, which serves to draw in the viewer. Elegantly built, transitional graphics animations are featured on every page when hovering over drop-down menus and page elements. Visitors to Paint will be instantly affirmed of the quality of your painting company and encouraged to explore your website further.
Paint is not just aesthetically attractive, but it is also incredibly high functioning. The standout feature of Paint is the extensive plugin package which is included. Paint is built for e-commerce functionality as it includes WooCommerce plugin, as well as two additional WooCommerce extensions. The Paint theme is in good hands as it includes the Yoast SEO WordPress plugin for continual search engine optimization best practice integration. Also, it includes the All in One SEO Pack for further optimization on your WordPress sites search engine result ranking. These are just a few of the significant benefits that Paint offers to paint companies. For around $60, Paint is highly recommended for professional painters everywhere.
6. PaintingCompany
PaintingCompany is a classy, straightforward WordPress theme for painters. Whether you're a privately contracted painter or you are a part of a large painting company, this theme offers a distinctive layout and aesthetic. With a rich buffet of widgets, elements, and features, PaintingCompany provides professional functionality in a manageable package.
Design Features And Usability
A professionally functional website offers a way to expand your business's customer base and brand image. This theme is perfect for individuals and small businesses that want to design a brand around personal connection and quality. Unlike a few other themes on the list, PaintingCompany offers a fully customizable color pallet for website developers to use.
PaintingCompany is beautifully designed for intuitive page navigation. Icons, buttons, and menus dissolve, seamlessly revealing the content of your direction. This theme's smooth transitional coding is one of the features which makes it engaging for visitors. Also, PaintingCompany includes all of the bare bones essentials for a functional painting company's website, such as Essential SEO plugin and an extensive shortcodes package for back end page building.
7. Painting Services
Another great WordPress theme for painters, Painting Services, offers professional painters a working platform with which to establish their online presence. With a bold aesthetic and an elementally rich interface, Painting Services might be the new face of your business. This theme is best for commercial painters and industrial painting companies, due to the layout design, fonts, and color schemes.
Design Features And Usability
Painting Services is designed to be minimalistic in the presentation. Information is stated and easy to navigate. It does not convey as much of a chic aesthetic as some of the other themes on our list, but what Painting Services lack in glitz, it makes up for in guts.
This theme features a suite of shortcodes, which makes page editing a breeze on the backend of WordPress. However, for users who wish to use a front end page builder, they will require an additional add-on. Users can add a drag-and-drop Builder for around $220, as well as a full set of other stock images for about $20. For those looking to save a buck while getting all of the premium functionality of the best WordPress themes for painters, Painting Services might not be the best choice. However, for those looking for a reliable, all-inclusive (with add-ons) platform to launch an online painting business presence, Painting Services will not let you down.
8. COLORithm
Elegantly designed and artfully constructed, COLORithm could be the best WordPress theme for painting companies. From the fonts used to the layout and interface, this theme is vivid, responsive, and professional. COLORithm offers the best WordPress theme for painters looking to create or update their businesses online brand recognition and reputation.
Design Features And Usability
The most striking feature on COLORithm is the delicately textured suite of background colors. As if looking at a professionally-painted residential home, this theme makes visitors feel relaxed, calm, and comfortable. COLORithm integrates a package of plugins and shortcodes, including an SEO plugin, as well as much more. With all of the necessary features for a fully functional professional painting service WordPress site, this theme comes in ahead for another reason as well. COLORithm includes one year of free web hosting, which is incredibly beneficial for those who are new to the world of WordPress hosting.
9. INSPIRE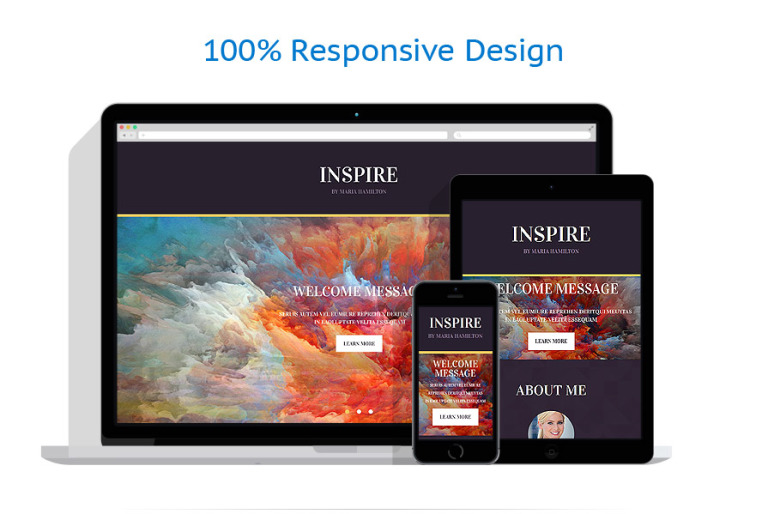 Last, but not least, INSPIRE is the best WordPress theme on our list for professional painting companies whose work skirts the line of artist and commercial. INSPIRE is intended to display the intricately woven brush patterns and color pallets used by the best of the best. With a simple layout and captivating graphics, INSPIRE leaves an impression of grand artistry.
Design Features And Usability
INSPIRE is fully responsive for every viewing device and it includes continual support from the developer's team. Users who wish to retain the ability to customize the colors and fonts entirely will be disappointed; however, INSPIRE has been carefully designed for visual impact. It includes many elements and features a package of essential plugins, but the biggest benefit of INSPIRE is the visitor's interface.
Perusing the INSPIRE landing pages is reminiscent of visiting an art museum. Viewers are transported through earthy, royal tones of purple and gold and leave with a feeling of experience and gratitude. INSPIRE sets a high aesthetic bar to meet for a business and is intended to be used by the most refined of commercial painting services. If you are a small painting service, be sure that the services which you offer are of equal quality to the INSPIRE painter's WordPress theme.