The Ultimate Design Library: $25,088 worth of Premium RF Resources – From $59
Inky Deals is one of the leading deals websites in the design community, with an extended family of more than 300,000 design enthusiasts. It's the place to go if you want to buy premium resources at unbeatable prices, whether you're a graphic or web designer, developer, or business owner looking to improve yourself and your work.
They're the only ones who offer a 200% money back guarantee on every product. This means that if you're not happy with it, you get your money back and you also get to keep the product.
Inky Deals came up with a ginormous bundle, The Ultimate Design Library: $25,088 worth of Premium RF Resources – From $59 and because they're our friends, you can grab itl with an exclusive $9 discount coupon! Use the code: ULTIMATE9 at checkout.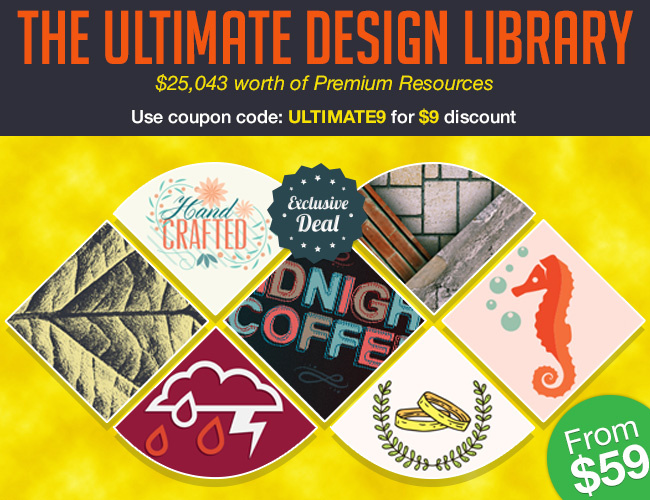 The bundle contains:
– 724 Vector Packs worth $9,655
– 127 Brushes Packs worth $1,386
– 100 T-shirt Designs worth $1,500
– 131 Super High-Res Texture Packs worth $1,654
– Midnight Coffee Font Family worth $30
– 4 Responsive UI Kits worth $60
– 1,925 Vector Illustrations worth $7,700
– 147 Photoshop & Illustrator Addons worth $1,486
– 13 Premium Fonts worth $95
– 20 Premium Tutorials worth $257
– 114 Web & Print Resources Packs worth $1,265
This entire bundle comes with an extended royalty license, meaning you can use the resources in an unlimited number of personal and commercial purposes, and even merchandise!
Still not convinced?
Download a free sample and test it as you want! Just click on the "Download" button for an instant download!

What's in the bundle:

Click here to view the entire content of this amazing bundle!